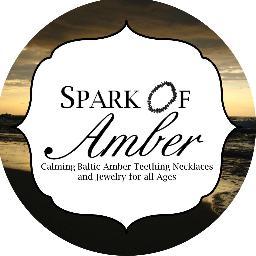 If you are still looking for a holiday gift, you might want to head over to
Spark of Amber
.
Spark of Amber
makes beautiful Baltic amber necklaces that are not only eye catching, but could have some
health benefits
too.
In case you don't know what Baltic amber is, I can tell you a little about it. Amber is a fossilized resin (I hate to say this, but think Jurassic Park HAHA). To make it Baltic amber, it must be found in the Baltic region. To read more about Baltic amber you can check out the
Wiki page
and
Spark of Amber's
page.
One thing I love about Spark of Amber is that they make jewelry for ALL ages. So it doesn't matter if you are a man, woman, or child, Spark of Amber probably has something that will fit your style.
I recently got to try out their green Baltic amber necklace called
Meadow
. Oh, my goodness, it is absolute beautiful.
As you can see, the necklace isn't actually green, is more of a warm yellowish color with flecks of very dark green in it.
**I am so sorry about the quality of my photos. Not really sure what is going on with my camera**
As you can probably tell, I LOVE
Spark of Amber
. This is another one of these products where I don't really think you can go wrong with.
If you are interested in getting your own
Spark of Amber
necklace or bracelet, you can go to their website:
http://www.sparkofamber.com/
I would like to thank
Spark of Amber
for sending me this beautiful necklace to review.